Upgrade Your Automation Devices with WEIPU's Reliable and Flexible Connectivity Solutions
Feature
→

High-performance signals and faster data transmission


→

Anti-vibration design


→

Fast locking mechanism


→

High-level sealing


→

Hybrid signal & power, data options


→

Long life cycles with up to 500 mating cycles


→

Customized shielding function


→

Customized PCB pin


→

Cable assembly service
As Industry 4.0 continues to develop, more automation devices, such as robots, sensors, actuators, and controllers, are being applied in smart factories, warehouses, and other facilities. Durable and reliable connections are critical to ensuring that complex robotic and factory systems can operate accurately and reliably. The main objective is to secure a flexible, safe, and reliable connectivity solution. Upgrade your systems with WEIPU's reliable and flexible connectivity solutions to achieve better performance and productivity.
Resistance to harsh condition
Harsh operating conditions can present challenges in maintaining reliable connections. When equipment, devices, and robots are exposed to extreme temperatures, oil, rain, and dust, it can directly impact their working situation. In addition, in industrial factories, machinery vibrations can be a common issue that can cause damage to equipment and create safety hazards for workers. WEIPU provides international-level certified sealing connectors and anti-vibration connectors designed to withstand harsh conditions and the impact of machinery vibrations, ensuring a safe and stable connection even in challenging environments.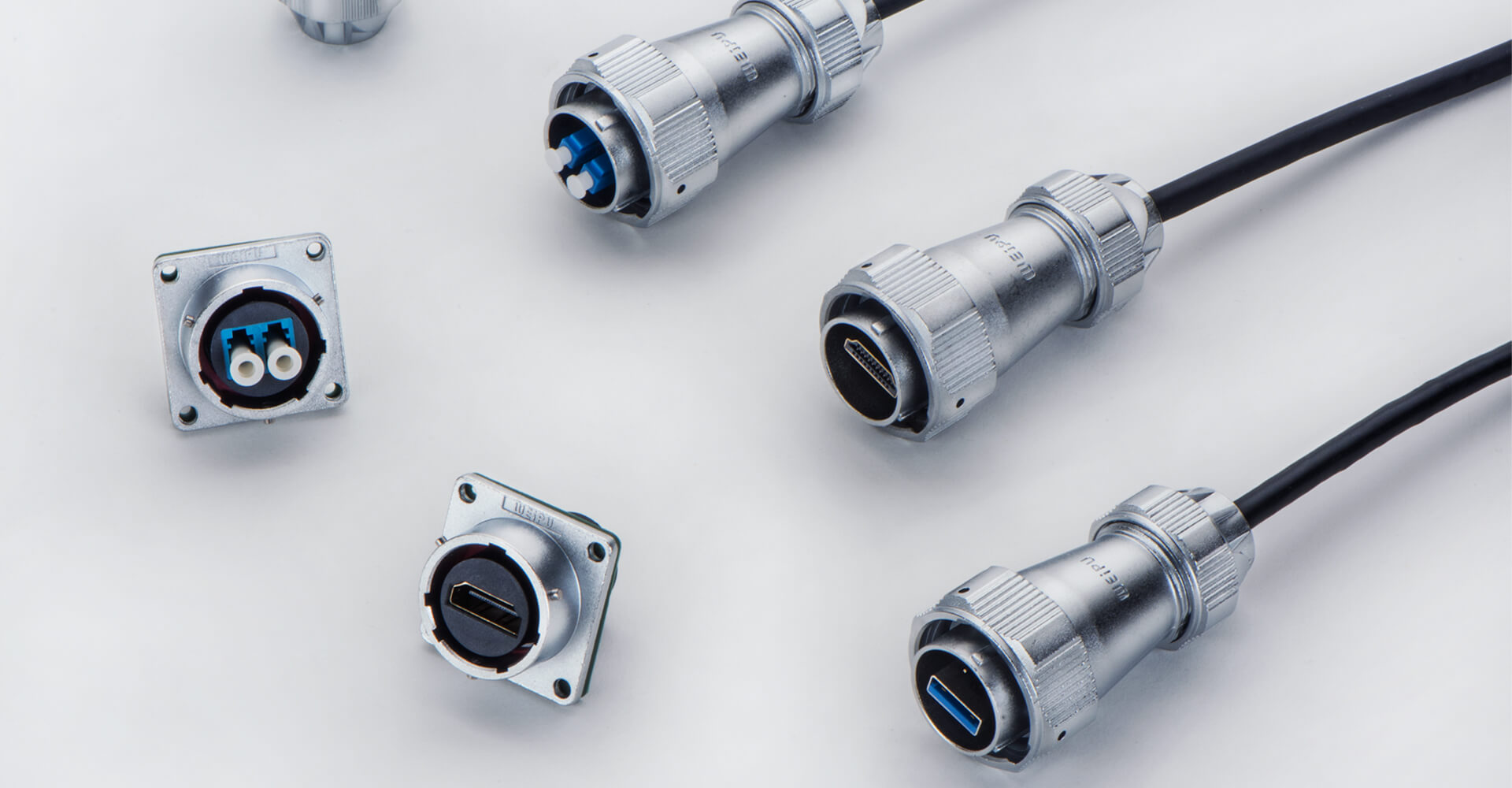 A wide variety of connector types
As automation design becomes more complex, connector selection becomes increasingly important. WEIPU's extensive range of product lines offers solutions for various scenarios. We provide a wide variety of connector types, including data (USB, RJ45, LC, and HDMI), power, and signal connections. These connectors come in a variety of shapes, sizes, and pin options, making them suitable for connecting printed circuit boards, sensors, and other electronic components in various sectors such as sensor technology, vision systems, artificial intelligence, Industrial Internet of Things (IIoT), and data-driven robotics. Browse our product lines to find the connectors that best suit your needs.
Push-pull/lock mechanism-quick & solid connection
Ease of operation is key when it comes to automation devices that perform multiple operations. Connectors must be easily mated and unmated to quickly install systems. If you're looking for a quick and easy installation process for your automation devices, check out WEIPU's push-pull connectors. WEIPU's push-pull connectors provide a simple, fast, and strong-locking connection, while the multi-color design prevents misconnections. Additionally, these connectors have a waterproof and dustproof rating of up to IP67, enabling robot systems to work stably even in harsh conditions.
Achieving specialty, lightweight, precision connectivity
Reducing size and weight is essential for many small-scale robots, as space constraints in many applications require connectors capable of transmitting power and data. WEIPU offers high-performance data and hybrid connectors with various sizes, providing flexible options for the automation sector. Explore our various sizes and flexible options to find the perfect connectors for your small-scale robots.


Vision & Inspection systems


The Internet of Robotic Things (IoRT)
PRODUCT LINE

Discover the customized solution!
If you need a more flexible and tailored approach, we'll be glad to help with our customized solutions.
READ MORE