WEIPU IP67 - DATA WY24
ZINC ALLOY DATA SERIES WITH BAYONET LOCKING
Water tight

Dust proof

Anti- vibration

Quick connection
WY24 Data series is made of zinc alloy with nickel plating, specially designed for applications that request fast connection, robust material, and data connection.
1) RJ45 / USB3.0 / LC/ HDMI 2.0
2) Bayonet connection
3) IP67 after mated
4) assembly available
Applications: This connector is designed with a bayonet coupling system. The bayonet structure gives WY series a solid and stable connection against a vibrating environment. Its industrial protection design enables WY24 to be used in all kinds of harsh environments to maintain its stable transmission. We always target giving customers' equipment better and higher protection.
Download WY24 Data Catalogue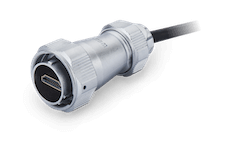 Having questions for WY24?
INFO@WEIPUCONNECTOR.COM
+0086 021-56631111
Connect with WEIPU
CONTACT
US