WEIPU IP67 - METAL CONNECTOR
Large size power connector with threaded connection
Water-proof

High performance materials

Mis-plug resistance
WEIPU WL52 series power connectors are made of durable, high-performance material, thanks to the aluminum material, which gives the light weight of a 19 high contact density connector. The connectors are used for cable-to-cable or cable-to-panel connections. Each side can be male or female contact and with optional IP67 waterproof caps.
There are three different types of plugs for cable fixtures, clamping nut, PG29 plastic hose adapter and M40x1.5 plastic hose adapter. These connectors are used widely for used for stage lighting connections.
* IP67 water-proof protection
* 19 contacts * Rated current 25A
* Termination: Solder
* Gold Plated contacts
* Temperature ranges from –40°C to +85°C
* Cable OD ranges: 15mm – 30mm
* Mis-plug resistance with colorful locking rings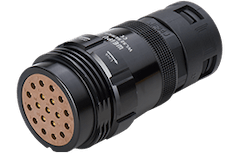 Having questions for WL52?
INFO@WEIPUCONNECTOR.COM
+0086 021-56631111
Connect with WEIPU
CONTACT
US