WEIPU INDOOR USE CONNECTOR
Metal shell connectors with threaded connection
Indoor use

High performance materials

Durability & Reliability
WEIPU WB25 series connectors are made of durable, high-performance metal material, which is used for connecting various electrical machines and industrial applications. The connectors are used for cable-to-panel mount connections, with a male plug & female socket. There are three different types of plugs for cable fixtures, metal hose, plastic hose, and rubber sleeve.
* For indoor use
* 4 contacts * Rated current 25A
* Termination: Solder
* Gold Plated Brass contacts
* Temperature ranges from –40°C to +85°C
* Cable OD ranges: 8mm – 10.5mm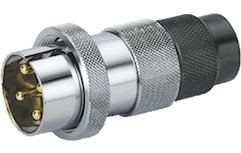 Having questions for WB25?
INFO@WEIPUCONNECTOR.COM
+0086 021-56631111
Connect with WEIPU
CONTACT
US