WEIPU IP67 - DATA SA24
ALUMINIUM DATA SERIES WITH PUSH-PULL LOCKING
Data connection

Quick connection

Waterproof

Multi-color
SA24 data series is made of anodized aluminum, specially designed for application that require data connection, fast connection, and robust material.
1) LC / RJ45 / USB3.0 / HDMI 2.0
2) Black/Silver/Red/Blue/Green
3) IP67 after mated
4) assembly available
Applications: This connector is designed with a fantastic appearance. The stunning shell made it widely used in many areas. Its industrial protection design enables SA24 to be used in all kinds of harsh environments to maintain its stable transmission. We always target giving customers' equipment better and higher protection.
Download SA24 Data Catalogue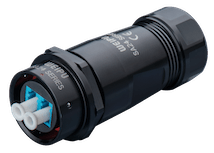 Having questions for SA24 Data?
INFO@WEIPUCONNECTOR.COM
+0086 021-56631111
Connect with WEIPU
CONTACT
US